Lily Bulbs, Zeba (Oriental Species Hybrid)
L. nepalense x L. oriental cross
Regular price
Sale price
$12.00
Unit price
per
Sale
Sold out

The Zeba Lily is a cross between Nepalense and Oriental hybrids, boasting large 30 cm (12") flowers with white petals tinged with green and deep chocolate maroon centers. Perfect for adding a dramatic show-stopping twist to the garden, Zeba's vibrant beauty will make your outdoor space stand out.
Ships as bulbs

Spring planting:  this item starts shipping in April (providing the outside temperature is above freezing) through to May
Quantity per Package: 3
Bulb Size: 16/18
SKU: 143933
Color: White and maroon
Plant Type: Flower
Latin Name: L. nepalense x L. oriental cross
Hardiness Zone(s): 3 to 9
Scent: Sweet
Days To Bloom: Mid to late summer
Water Need: Average 2.5 cm (1") per week
Growing Instructions:

Lilies are shipped as bulbs and should be planted immediately upon arrival. Do not be concerned if they have sprouts, they can still be planted. Do not remove the sprouts as this can prevent the bulb from blooming. A little blue mold on the outer scales is normal and no cause for alarm. This is known as surface mold and will dry off. If you are not able to plant the bulbs upon arrival, remove them from the package, and store in a cool, dry, dark location. The ideal storage temperature is 7°C (45°F).

Lily bulbs should be planted after all danger of frost has passed and the soil is workable but not muddy.
Choose a planting area with well draining soil in a sunny location that receives at least 6 hours of direct sunlight. Avoid areas with standing water when it rains.
if you have clay soil, you can amend it by loosening the soil to a depth of 30-38 cm (12-15") and work in a 5-10 cm (2-4") layer of well-rotted manure or compost to improve fertility and drainage.
Plant the bulbs pointy side up, at a depth of 2-3 times the height of the bulb, approximately 15-20 cm (6-8") below the soil surface.
Back fill the hole with soil and tamp soil gently to remove any air holes.
Space bulbs at a distance equal to three times the bulb's diameter about 20 cm (8") apart.
Once bulbs are planted, thoroughly soak the area with water to settle the soil. Continue to water throughout the growing season, being careful not to provide too much moisture as the bulbs can rot.
Fertilize plants once per month if desired with a well-balanced water soluble fertilizer while actively growing.
Once blooms have faded and fallen off, do not cut back stalks or remove foliage as this enables them to produce food for next year's growth.
Once the foliage has dried and browned later in the fall, remove the leaves and flower stalk by cutting down to the ground.
Water needs: Generally 2.5 cm (1") of moisture per week is adequate during the growing season. More may be required if the weather is hot and you are experiencing drought-like conditions.

Planting Depth: 15-20 cm (6-8")
Plantling Spacing: 20 cm (8")
Growing Suggestions:

Lily bulbs do not have a protective coating like tulips or daffodils. Therefore it is important that lily bulbs are planted as soon as possible upon arrival so they do not dry out.
Handle bulbs carefully to avoid breaking off the scales.
If planting in poor draining soil, the bulbs will benefit from the soil being amended with organic matter such as well rotted manure, peat moss or compost before planting.
For best visual impact, plant lilies in groups of 3 or more bulbs. They look best if planted in one large hole, spacing the bulbs apart adequately rather than 1 bulb in a single hole.
Deep planting is important as it stabilizes the bulb and potentially eliminates the need for staking.
If the planting location is too shady, the stalks will lean towards the sun, become spindly and may even fall over.
Bulbs do better if their roots are shaded by surrounding plants.
Once bulbs have bloomed, they can be susceptible to rot and should not be watered excessively or allowed to sit in overly wet soil.
Removing wilted flowers after blooming will allow the plant to concentrate its energy on bulb development rather than seed development.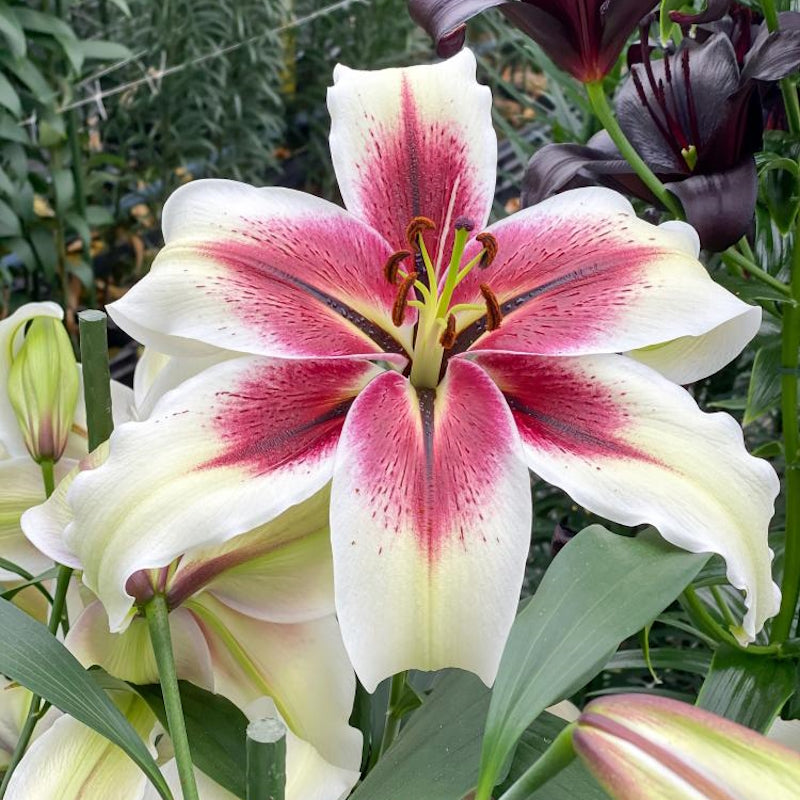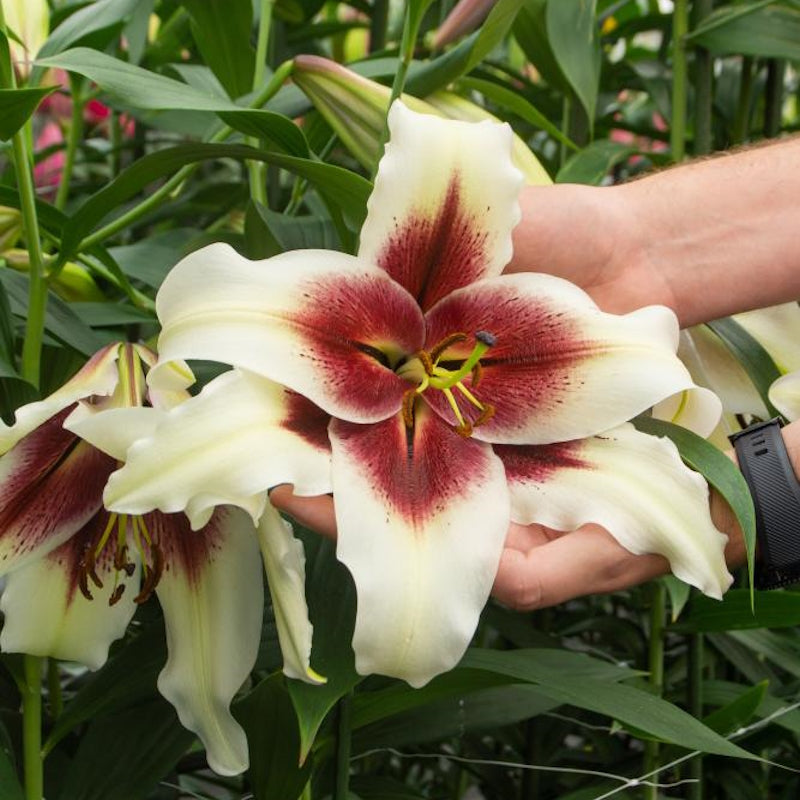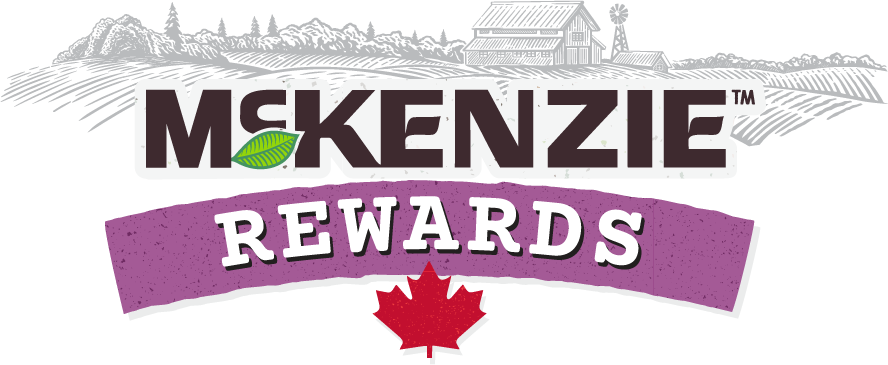 Join our rewards program today to start saving!

Free Shipping on orders over $50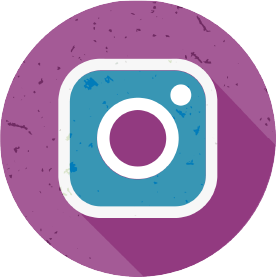 There are a ton of ways to earn!

Redeem points for BIG savings!