Gladiolus Bulbs, Glamini Mix
Regular price
Sale price
$10.00
Unit price
per
Sale
Sold out

Glamini Mix Gladiolus Bulbs produce 8 cm (3") flowers in a variety of colors, including red, white, purple, and fuschia. Perfect for container growing, these compact bulbs are longer-flowering than regular gladiolus varieties. With vibrant colors and a long-lasting bloom, Glamini is the perfect choice for adding color to your garden.
Ships as bulbs (corms)

Spring planting:  this item starts shipping in April (providing the outside temperature is above freezing) through to May
Quantity per Package: 10
Bulb Size: 10/12
SKU: 142482
Color: Purple, red, white, fuschia
Plant Type: Flower
Latin Name: Gladiolus x hybrida
Days To Bloom: Mid to late summer
Tolerance: Drought tolerant
Water Need: Average 2.5 cm (1") per week
Growing Instructions:

Gladiolus are shipped as bulb-like corms and should be planted immediately upon arrival. If it is not time to plant the corms, store in a cool, dry, dark location with air circulation. Ideal storage temperature is 4-18°C (40-65°F) degrees.

Plant corms after the last Spring frost. Choose a planting area with well-draining soil in a sunny location that receives at least 6-8 hours of direct sunlight. Corms will rot in soil that is heavy and wet.
if you have clay soil, you can amend it by loosening the soil to a depth of 30-38 cm (12-15") and work in a 5-10 cm (2-4") layer of well-rotted manure or compost to improve fertility and drainage.
Loosen the soil to a depth of 30 cm (12") before planting. After loosening the soil, this is a good time to mix in 5-10 cm (2-4") of well-rotted manure, or compost.
Corms should be planted 10 cm (4") deep with the pointy end facing up. The corms should be spaced 15-20 cm (6-8") apart.
Fill in around the bulb, firmly pressing down the soil so it is even with the surrounding ground, and water well. Make sure there are no air pockets in the soil.
Gladiolus can also be planted in rows for cut flowers. Dig a trench 15-20 cm (6-8") deep. Plant the bulbs with their pointed ends up about 15 cm (6") apart and cover back in with soil.
Remove faded/dead flowers to ensure continuous blooms. Once all the flowers on a stalk are gone, cut the stalk off at about 5-8 cm (2-3") above the soil.
Water needs: if plants are not receiving water from rain, provide your plants with 2.5 cm (1") of water per week.
Corms should be dug up after the first frost for overwintering, or treat as an annual.

Planting in containers

Select a deep container, at least 30 cm (12") deep and 30 cm (12") in diameter, making sure there is adequate drainage holes. Stones can be added to the bottom of the container to aid in drainage.
Choose a light potting soil with extra perlite if available, or create your own mix using equal parts of potting soil, perlite, and peat moss. Do not use garden soil.
Fill the container with soil, about 15-25 cm (6-10") from the top and space the corms on the surface, 10 cm (4") apart pointy end facing up. Top the container off with more soil and gently pat the surface with your hands to settle the soil.

Planting Depth: 10 cm (4")
Plantling Spacing: 15-20 cm (6-8")
Growing Suggestions:

Place a 5-10 cm (2-4") layer of mulch around your glads to keep the soil moist and help prevent weeds.
Stagger plantings every 10 days in Spring to early Summer for continuous color.
Each flower stem can bloom up to 20 florets. The blossoms (florets) on the stems open one by one starting at the bottom working their way to the top with each stem providing up to 10 days of of colorful blooms.
Early morning or evening is the best time to cut flowers, not during the heat of the day. Cut stems when there are 1 to 3 flowers open. The rest will open in order up the stem.
Pinching wilted blooms on stems will encourage the opening of the remaining florets. To pinch glads, just remove faded blossoms with your fingertips or garden shears. This will keep your bouquet looking fresh.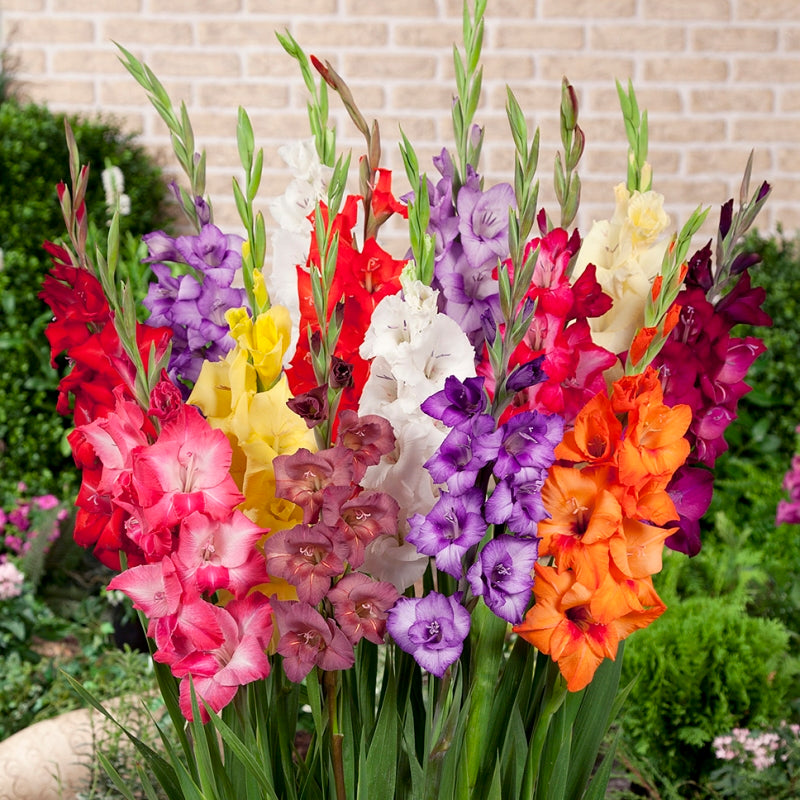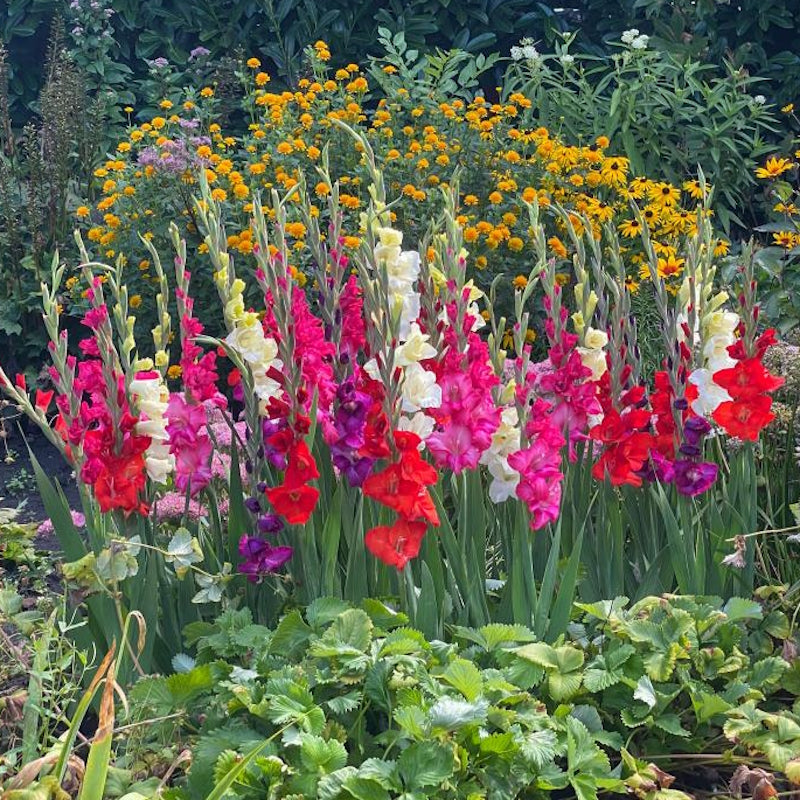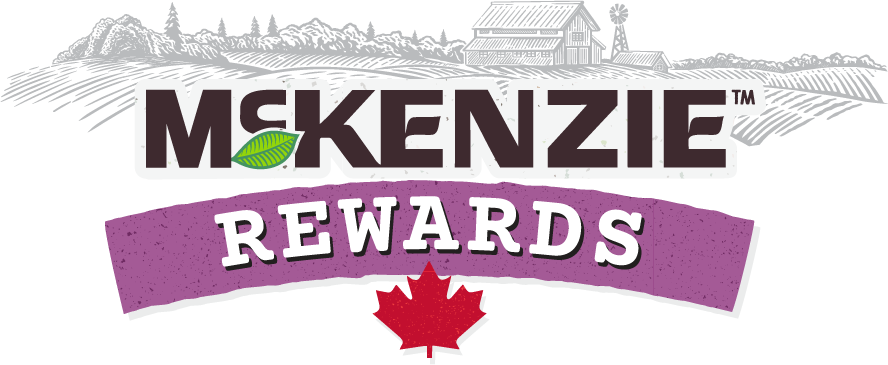 Join our rewards program today to start saving!

Free Shipping on orders over $50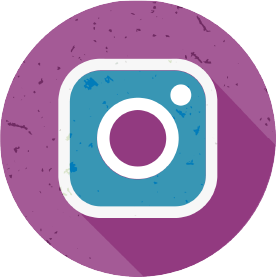 There are a ton of ways to earn!

Redeem points for BIG savings!